August 27, 2022
Crush Challenge
Napa Valley, CA
Visit the Crush Challenge website for tickets and more information.
Event Description
The ultimate food, wine, and cycling event in Napa Valley!
The ultimate food, wine, and cycling experience in the Napa Valley returns for the 8th Annual Crush Challenge, hosted by ZD Wines, on Saturday, August 27, 2022! Taking place at various locations in the Napa Valley, enjoy a fun day while supporting our beneficiaries to find a non-toxic cure for cancer and helping local teens in the Napa community.
Barrel Tasting at ZD Wines
An alternative to the cycling ride, the barrel tasting at ZD Wines is hosted by the founding deLeuze family and winemakers. Located in Rutherford, guests will sample wines maturing in barrel and enjoy light food pairings prepared onsite by a partner chef of Crush Challenge. Relax on the recently renovated Vineyard View Room & Deck overlooking the valley floor vineyards of Rutherford while sipping on award-winning ZD Wines.
All barrel tasting guests will receive complimentary admission to the Food & Wine Marketplace in Yountville immediately following the barrel tasting. Shuttles will be provided from North Yountville Park to ZD Wines and back.
Food & Wine Marketplace
Premium wineries and restaurants at the North Yountville Park from 12:00 p.m. - 3:00 p.m. on Saturday, October 9, 2021. An all-inclusive afternoon of enjoying fares from some of Napa Valley's top culinary and vintner partners. Check back often as we will announce more partners the closer to the event!
All cycling and barrel tasting tickets include admission to the Food & Wine Marketplace.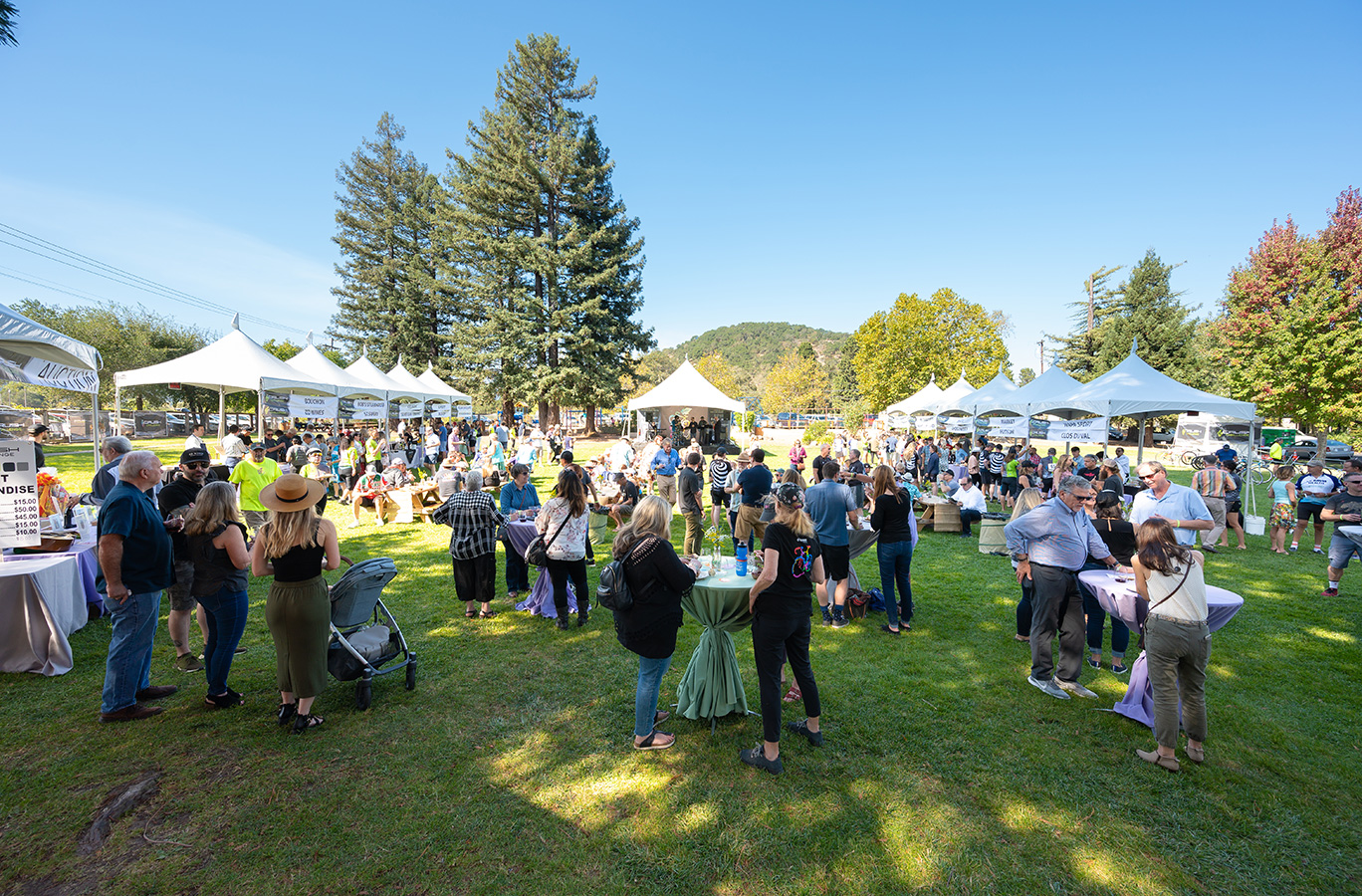 The Ride
Presented by UC Davis Comprehensive Cancer Center
**New this year: the starting line is at Veterans Memorial Park at the south end of Yountville.
Meet at 8:00 a.m. at the Veterans Memorial Park in Yountville with a 9:15 a.m. start time. Experience the beauty of Napa Valley on a private cycling excursion (25- or 37-mile options) that will depart from Veterans Memorial Park in Yountville. Pass through vineyard-lined avenues, sharing the road with cycling pros and friends of Crush Challenge (previous pros: Freddie Rodriguez, Alison Tetrick, Alex Steida, Brent and Jamie Bookwalter, Levi Leipheimer, and Christian Vande Velde). Enjoy a "rest stop" at ZD Wines in Rutherford to imbibe in the barrel tasting and food bites.
Following the ride at the North Yountville Park, indulge in the all-inclusive Food & Wine Marketplace with live music paired with delicious food and wine from Napa Valley restaurants and wineries to round out the afternoon.
Cost includes admission to Food & Wine Marketplace immediately following the ride.
Crush Challenge